Lifestyle tino compact table top charcoal barbecue cooking area 34cm dia warming rack width 235cm x depth 20cm assembled dimensions with legs diameter 38cm x height 55cm assembled dimensions without legs diameter 38cm x height 36cm weight 32kg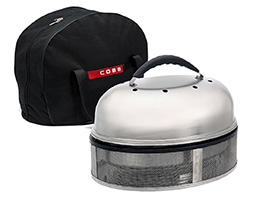 This bbq is the perfect choice for those who love to entertain outside. Ideal for catering for a larger group, as it allows large amounts of food to be cooked simultaneously. This item is supplied with a carry bag and roast rack. Product information made...
Use this lightweight fry pan with your cobb bbq to fry meat and fish. The pan is coated with a non stick material, meaning that it is ideal for making pancakes and omelettes. The aluminium base provides even heat distribution. For use with the cobb compact...