An organic based granular fertiliser with a high potash formula in the form of sulphate of potash to promote superior flavour and colour, plus added magnesium which is ideally suited to the needs of both potatoes and fruit crops. The granules ensure a...
1.5kg box of organic potato and vegetable feed. Supplied as ready to use granule s. Provides essential nutrients for strong, healthy roots and leafy growth.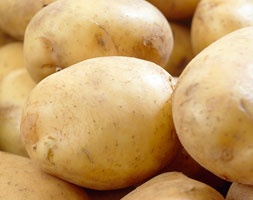 Position sun partial shade soil fertile, well drained rate of growth fast growing harvesting period early to mid june hardiness protect tubers from frost aposrocketapos is a very heavy cropping variety with pure white flesh, which is waxy and soft at...