A decadent winter treat for garden birds, this giant cookie is packed with the f at rich goodies they love a high energy suet ring coated in a luxury seed mix and topped with meaty mealworms. Tasty, crunchy and brimming with calories to ke ep them nourished...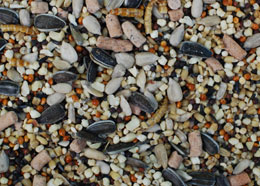 Special blend of insects, seeds and suet attract birds to a particular area endorsed by the bto species specific food blends are great for encouraging particular birds to fl ock to certain areas. Use several kinds to attract a diverse array of birds into...
Position full sun soil well drained soil rate of growth average fast gardening couldnapost be easier with this great seed mat. Itaposs made from biodegradable tissue paper that has pre sown seeds in it so all you need to do is roll it out, cover, and...