Made from tough polyethylene, this 17cm 7 square green mesh net is ideal for supporting runner beans, sweet peas and other climbing plants. 2m 6'6 x 11m 36'.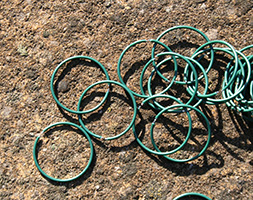 Pvc coated for weather resistance long lasting and reusable quick and easy to use easy to use support rings that will help keep your sweet peas and other plants u pright and strong. With a smooth pvc coating, they are resistant to rust and gentle on soft...
Support growing plants and add year round interest to beds, borders and pots wit h these sculptural poppy seed head stakes. Includes two wire loops to support su rrounding stems. Also useful for marking bulbs and dormant plants to prevent unearthing....