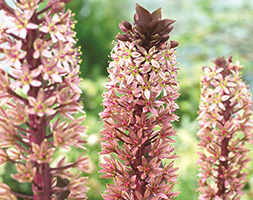 Position full sun soil fertile, well drained soil or loam based potting compost with sharp sand or grit for container grown specimens rate of growth average flowering period july and august hardiness borderline hardy may need winter protection this eucomis...
Pretty yellow and white down facing blooms. Flowers are large and perfumed, white with freckled sunny yellow centres. Sturdy stems and happy to grow in most gardens. Plant in clumps for best displays. Flowers from late july through august. Height up to...
Our exotic lilies are easy to grow, look great in the garden, and make ideal cut flowers for the home as well! Oriental hybrids are renowned for their very large, exotic, intensely scented, upward facing blooms. Stargazer has large, deep pink flowers...