A perennial herb which produces broader leaves than normal chives, and has a delicate garlic taste. A tasty addition to salads and cooked dishes. Aphids are repelled by aphid plants but ladybirds love them, so they're a great choice for keeping aphids...
Perennial clumps of onion flavoured, tender, spear like green leaves. Delicious in all egg, potato and cheese dishes, in salads, and sprinkled over soups and potatoes.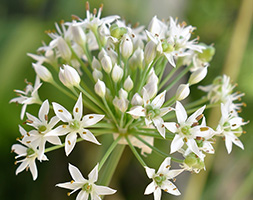 Position full sun or partial shade soil fertile, well drained soil rate of growth average to fast flowering period april to may hardiness fully hardy commonly known as wild garlic, the aromatic leaves of this fast growing perennial can be eaten and used...